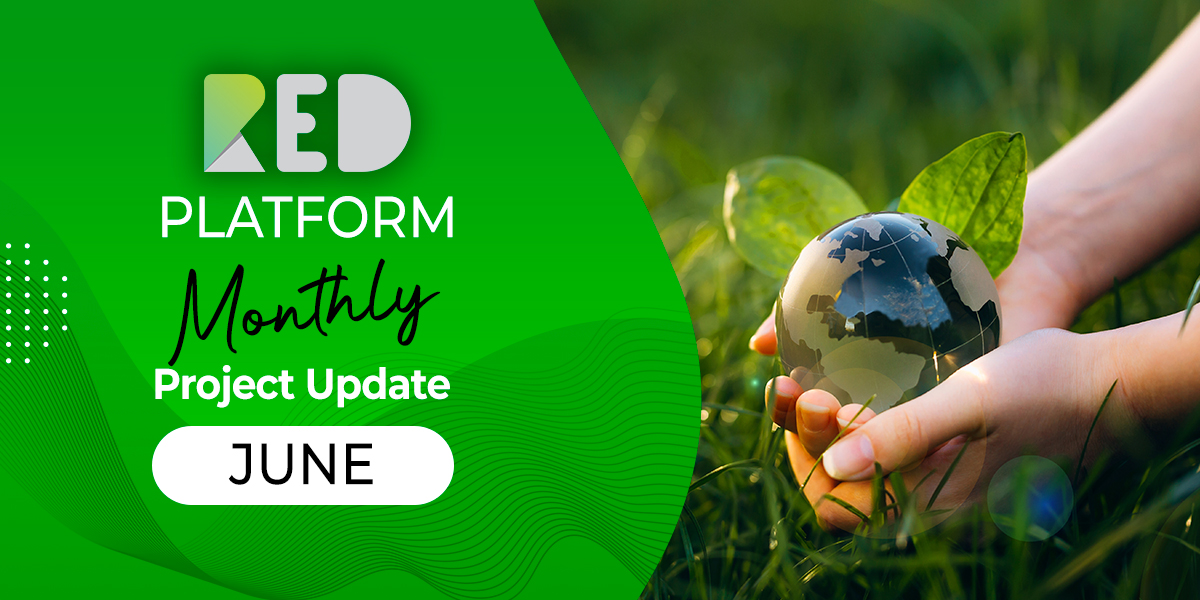 The last month of Q2 is passing these days and we are prepared to translate our work into the public line of sight with the features we prepared in the last months.
The first step was to open the Discord server for better integration of our activity, from private groups, like Franchises, to specific general topics, besides the Main Chat. Sustainability, RED Tokens, Announcements, Videos, Tweets, Whitepaper – everything has a separate section but under the same big umbrella.
Simultaneously, the members who joined will be more active and will have access to more and more quick info than before, thanks to @AndreeaVRED, @Oana, @Ariana, and @SupepochD.
The Franchise community has already been encouraged to give feedback about the next materials to prepare to have a more qualified active community to work with the RED Platform.
The Whitepaper V2 has to pass the nodes structure & staking mechanism and relations between different entities interacting on the Platform prior to publishing, we are actively working on it to be ready soon.
The marketing and Community team is becoming one of the most important elements now as we direct our attention to market segmentation and communication strategy.
The new GTK  is now representing a tone of CO2 avoidance instead of 1 kg, few details will be affected, but the big picture is simpler and more efficient now.
More RED Platform tweaks solved in June start with payment integration with Netopia in a simplified way, reducing commissions and facilitating purchases in EUR and USD. Also, more user interface improvements on different pages of the platform, design updates in sustainable certificates, and bugs solved.
The new versions for iOS and Android apps are in the approval stage to be received in their Store.
One of the most awaited features for Franchises is the API integration and the first of its kind will be ready in the following days. This will allow us to transfer our Carbon Footprint Calculator to our Partner's Websites and multiply our visibility in more places and markets. A separate announcement for the first appliance will be made.
As a sneak peek at what's coming, we will share briefly about what is being prepared behind the scenes: the IT team is working continuously and simultaneously on several projects and tasks that we will reveal as they are delivered: Solar NFT (an exciting new project that we can't wait to show you and that will come with great benefits for solar project developers), NFT marketplace, offset options for third-party integrations, decentralized solutions for blockchain enhancements and, of course, Whitepaper, RED Standard, Sustainable Projects and carbon credits publication.
As you already know if you are a part of our Telegram group, we have listened to your preferences and the RED Restart Energy Democracy channel will be closed to conversations beginning on July 20th. Below you will find the results of the poll: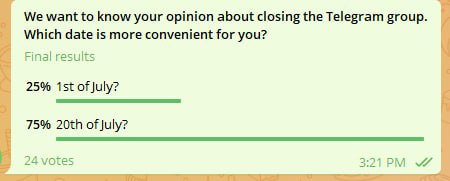 Nevertheless, it will be maintained open and updated with the Discord link and blog articles will be published there for our users to be kept up-to-date.

Stay tuned, please Subscribe to all our Social Media channels: and GIVE US YOUR SUPPORT to make RED known everywhere. It's time to start to grow together with and for the community!
The next update will be on Monday, 25th of July.
For any questions, please fill the form with suggestions here.
We will also answer twice a month or weekly if there are many things to discuss.
Useful links:
www.app.redplatform.com
You can see the previous update here:
– Status report 2022, weeks 17-20
– Status report 2022, weeks 15-16
– Status report 2022, weeks 13-14
– Status report 2022, weeks 11-12
– Status report 2022, weeks 9-10
– Status report 2022, weeks 7-8
– Status report 2022, weeks 5-6
– Status report 2022, weeks 3-4
– Status report 2022, weeks 1-2