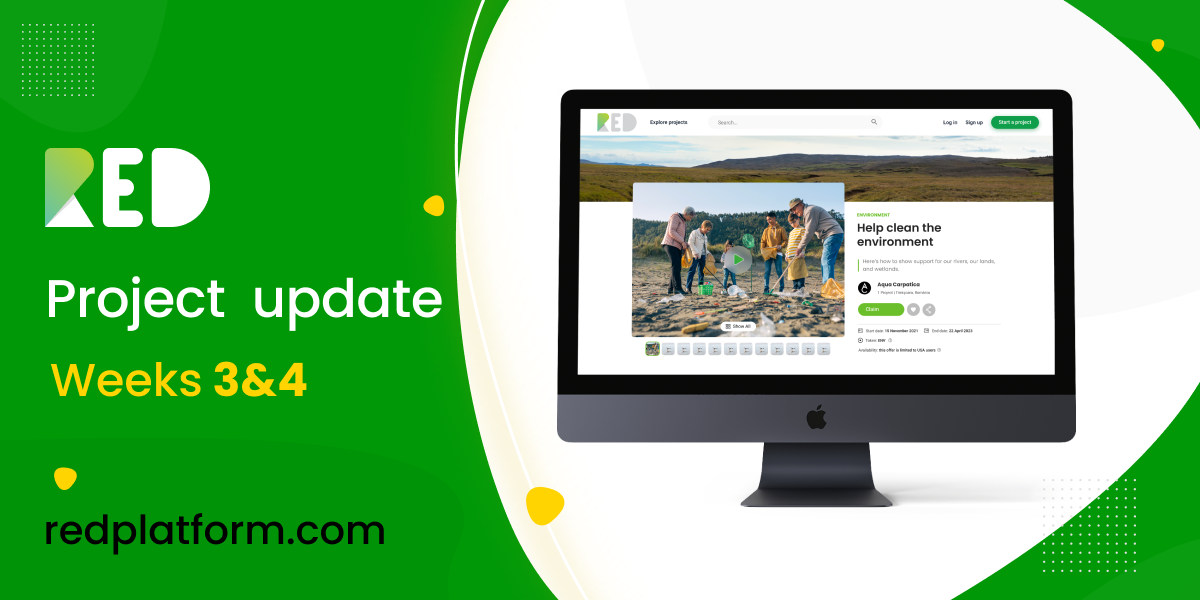 The second update of the year will be more concise and will reveal our progress towards what we aimed to accomplish this period, but also some tactical decisions regarding the marketing and networking strategy for expanding our customer database.
All of these being said, let's roll with this last update of the first month of 2022.
Adding Sustainable Projects Feature
The Integration of External Sustainable Projects with the RED Platform is finalized.
We are now in the Testnet phase for 2 more weeks, and you could consider the last week of February as a reasonable deadline to have these features fully onboarded.
Our own process to certify external projects is in progress and we are targeting the end of February to complete this task. In addition, we have already some potential partnerships of this type, so it will be a good test to see how we will manage this kind of integration.
RED Whitepaper
Regarding the Whitepaper V2 – MWAT tokenomics is almost set, some flows should be revised and technical terms to be defined clearly and more detailed. We are excited to show our strategy as soon as is finished and we hope it will clarify more details for you and your vision about the project.
Corporate Carbon Footprint Calculator
The Carbon Footprint Calculator for companies is starting to become a priority for our team and we will be progressing faster now. The Testnet period for External Projects Integration is a good period for us to fill other tasks and this is the most important.
RED Franchises
Also, Franchising Terms of Business will be defined by the end of the month, in direct relation with Whitepaper V2, External Projects Integration and Carbon Footprint Calculator for Companies. As a short idea, the Franchisees will have a large range of defining their Price Strategy and Business Approach, with some guidelines marked by RED.
As we are depending on the smooth run of the features above, we need to start USA and Canada openings only after a good test of it.
Additional News
What is changed versus the last update for the next tasks is related mostly to Marketing strategy:
The marketing team is in full expansion.

Marketing Strategy regarding Carbon Offsetting and Sustainable Projects is growing alongside the team with new ideas and approaches.

Targeted preparation to attract some specific customers:

Blockchain-related projects 

Forestation

Travel

Logistics companies

The last point we will approach is embarking on new energy producers on our platform beginning Q2.
Listings & Exchanges
We didn't mention exchange listings and blockchain diversification. Both are very important for us, to give our MWAT holders more possibilities to trade their tokens, to have the freedom to choose what to do with their holdings. We are looking in this direction more carefully and we will build the plan according to the benefit of all RED stakeholders. That's why we will focus on it after the previous tasks are accomplished.
Let's summarize what we are aiming at in Q1 and how things are going until now

The next project update will take place on Monday, February 14th.
For any questions, please fill out the form with suggestions here.
We will also answer twice a month or weekly if there are many things to discuss.