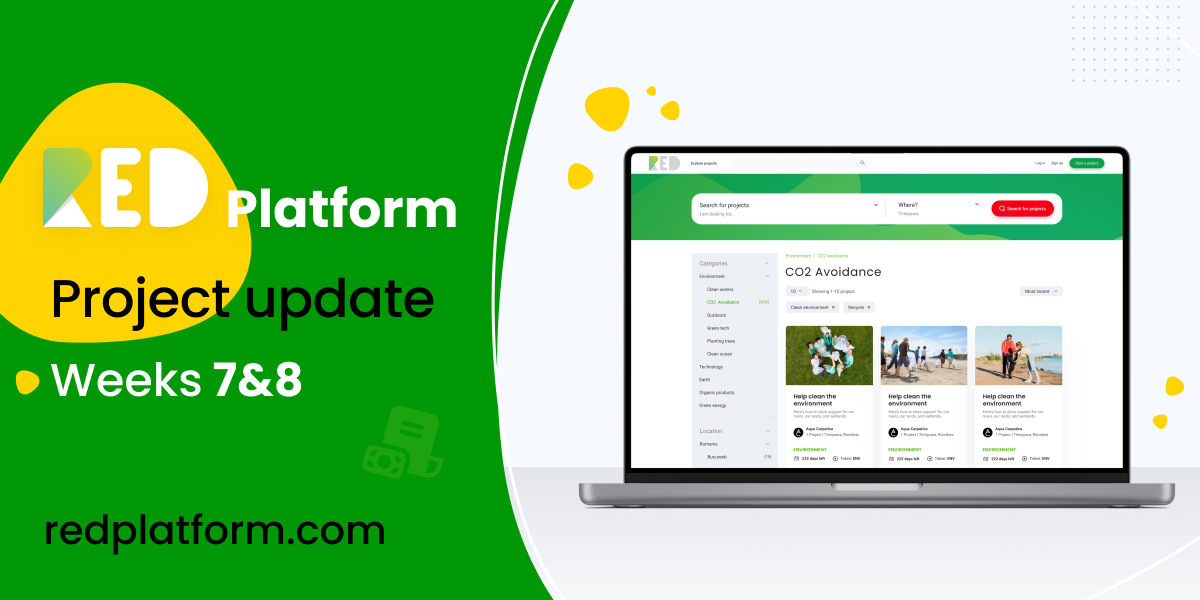 A warm hello from RED Team for you and our prayers are going to any soul in difficulty from any part of the world. We hope to see the conflicts ending very soon and that ordinary life will win over the war. Of course, we are deeply affected and we cannot be indifferent to what is happening near us, in Europe, but we will try to stay focused on our work while we will offer our support to any family in need coming from Ukraine.
It's been 2 months since 2022 has started and we are ready to deploy the first commitment of this new year's task:
The Integration of External Sustainable Projects with RED Platform 
The tests are already made and everything seems in place, the forms, profiles and queries are loaded on the platform and the last preparations for bringing the projects' onboarding feature are in development. A special announcement dedicated to this event will be made and additional activities will start to enforce this first product that will bring funds and liquidity in sustainable tokens offer for RED. Direct marketing and media exposure will become more and more important in this awareness-building game and this feature will be the first pillar to sustain the RED brand as an emerging business partner in climate-friendly activities.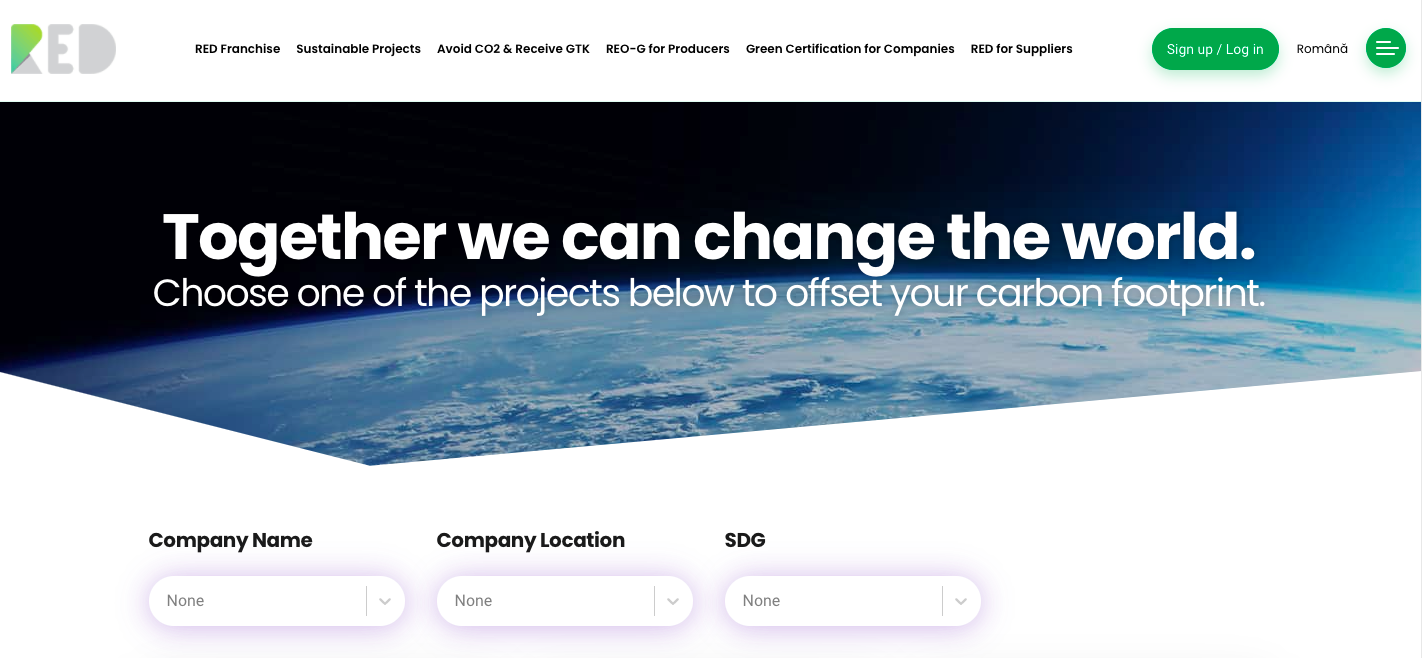 We continue to work on RED Carbon Standard – our proprietary standard for certifying Sustainable Projects. We are on schedule until now with the last updates and are eager to announce it as soon as it will be ready.
Also, special activities and media appearances will be prepared for this because it will make the Sustainability Process available and affordable for any small or medium project. The much lower costs and short-time onboarding procedure will be the key to attracting many existing businesses or even generating new ones from the scratch.
Projects have the possibility to use MWAT, BTC and ETH to monetize their carbon credits. Nonetheless, having analyzed the carbon market and having employed deep research among project developers, we have found that another way for speeding adoption will be FIAT and credit card payment for becoming carbon neutral or generating sustainable tokens. This part of the project is almost fully implemented and will be launched in the next two weeks.
Whitepaper
The Roadmap for Whitepaper V2  is almost ready, a few more details are clarified and we hope to see the final version of the whole document in March. This will help us to have a clear approach for Franchises, Sustainability Projects and our growth and development vision. We'd like to think you will have some pleasant surprises that will grow the use case and utility of MWAT, growing the demand for our token, which is on the rise with the launch of the projects.
Carbon Footprint Calculator
The Carbon Footprint Calculator for companies is in development. Quick steps are made and we should finalize it by the end of March and make it available to the public in April. The calculator will apply to any type of business and is flexible in the input and output information that will be presented.
GTK Token
Because of the big amount of sustainable tokens we expect to generate on the platform, the GTK token will be the representation of 1T of CO2 avoided from the atmosphere instead of 1kg. This change will make the project developers' tasks easier and will give a clearer view of the projects.
This change will impact different areas where GTK is used or planned to be used. Users will be announced about this change as soon as an implementation flow is available.
Franchises
Franchising Terms of Business are almost completed and should be finished once with the Whitepaper v2. Finalizing this chapter of our task list will open a proactive campaign for attracting new Franchisees that would be assisted by our team to understand the business and how to operate the Platform's Tools.
An important update on the organization of franchises will be disclosed later this week, so stay tuned! In addition to this, each franchisee will have a personal Key Account Consultant that will help them through different processes and client onboarding as they need.
Both markets, USA and Canada are on hold as you know and we are expecting the break-in of the RED Platform in Europe for a certain period before opening the business across the Atlantic.
Franchises for Europe are growing, we are in negotiations for Germany and Italy. Having most of the tools ready to be used right from the moment when the Carbon Footprint Calculator for Companies will be available will bring us in a good position for expansion.
Marketing and Communication
We will have one more member for Community Management, that you will meet today, in preparation for growing the community and opening new channels.
A Discord group will be activated for better configuration of topics in discussion: sustainability, RED Platform related subjects, Exchange, Trading, Franchises, etc.
New partnerships are being developed along the way and will be announced in due time. Our targets in forging them are the following: generating sustainability tokens, growing our ecosystem with customers, generating revenues and visibility in mass and social media, crypto world and targeted B2B.
The website is undergoing a redesign process already to be more structured for our features – Carbon Offsetting, Renewable Energy and Business Solutions.
With the website redesign, new client acquisition flows and tools are being prepared for marketing and carbon offsetting.
Digital Marketing, focused on LinkedIn campaigns will be enabled for the targeted audience.
We are exploring certain advertising strategies – like product placement and collaborations.

As we stated before, new partnerships and

energy projects

will be announced as soon as everything is set and prepared to become public. For now, we started with Romania, but we will begin to attract partners from other countries too.
Blockchain
Exchange, listing and blockchain diversification will be under better addressability after the product development tasks are done. There are many things to be done here, so we will need to take them one by one.
In the meantime, RED Platform is already in our lab to make the signup process easier and even have platform tools available without becoming a member of the RED Platform.
The status for Q1 after the first 2 months of 2022

The next update will be on Monday, 14th of March.
For any questions, please fill out the form with suggestions here.
We will also answer twice a month or weekly if there are many things to discuss.
Useful links:
RED Platform: https://www.app.redplatform.com
You can see the previous update here:
– Status report 2022, weeks 5-6
– Status report 2022, weeks 3-4
– Status report 2022, weeks 1-2