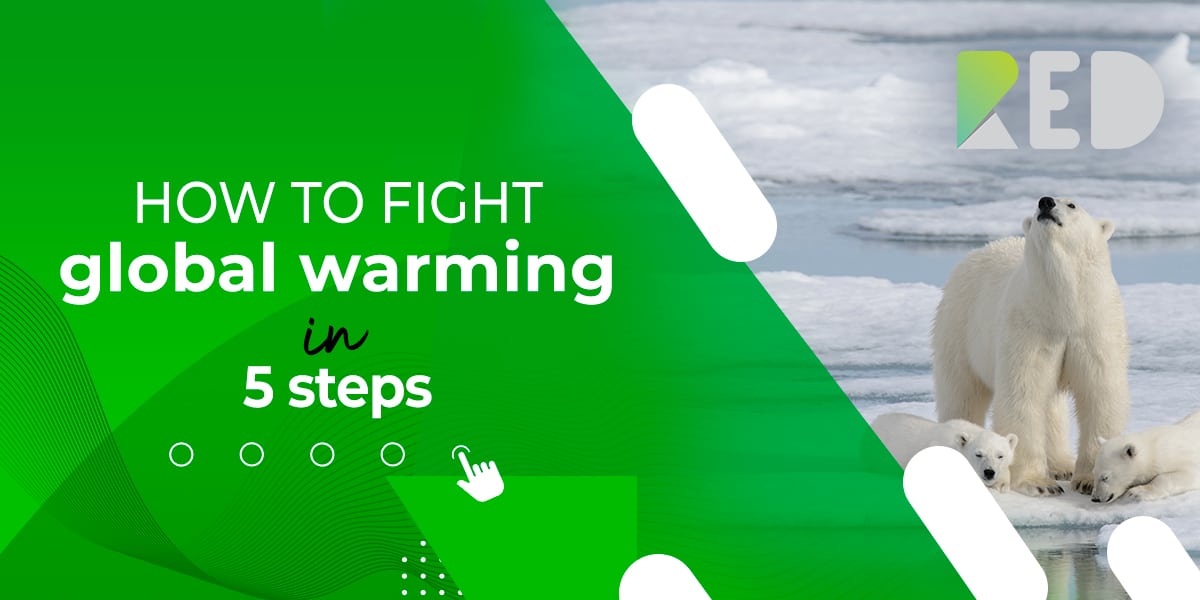 We must take action now to stop or try to limit global warming. According to the United Nations, the world is already on a path to global warming of more than double the 1.5 degrees Celsius limit agreed upon in the 2015 Paris Climate Agreement. Unfortunately, climate change doesn't just affect sea levels and air quality. It permeates all levels of society, affecting national security and world economies. However, there is some good news on the horizon and it includes you. 
1. Calculate your carbon footprint
To fight global warming, you first have to assess your own contribution to it. Your carbon footprint is the amount of greenhouse gases released because of your habits. Once you calculate your carbon footprint, you become conscious of how your own actions are affecting the environment.
With the rise of ESG as a reporting framework for financial institutions and investors, companies must now take action to reduce their carbon footprint and implement carbon offset measures to stay ahead of the game. Without a good ESG rating, companies will have trouble accessing capital markets to secure operations. 
2. Change your habits 
Once you have assessed your carbon footprint, you can take carbon-mitigating actions. Measures like switching to renewable energy, changing the way you travel, planting trees, decreasing food waste, and recycling can make an impact. 
However, reducing global warming requires full global cooperation. Therefore, companies are not exempt from taking meaningful action. Do your research and vote with your wallet by investing in companies that are transparent about their environmental initiatives. 
3. Invest in green energy 
Investing in sustainability is vital to fighting climate change. Transitioning to renewable energy reduces the world's reliance on fossil fuels and promotes business growth. People have the power to stimulate green energy production by interacting with reliable, eco-friendly businesses. 
As consumer sentiments shift to prioritize sustainability-focused investments, companies must also strive to identify strategic opportunities to meet competitive challenges. In 2020, the global renewable energy market was valued at $881.7 billion, and it is projected to reach $1,997.6 billion by 2030. The International Energy Agency expects renewable energy to account for almost 95% of the increase in the world's power capacity through 2026. 
4. Leverage blockchain technology 
While important, changing your habits and incentivizing a shift to green energy alone is not enough. Leveraging blockchain technology to fight global warming is a relatively new idea and one that could actually drive meaningful change. 
Over the last decade, crypto has become increasingly more popular globally. But crypto mining has a huge carbon footprint with fossil fuels powering about 60% of Bitcoin mining. The good news is that there are environmentally conscious companies like RED that are developing sustainable projects and encouraging carbon offsets through blockchain technology. The RED Platform gives energy producers a chance to capitalize on prioritizing renewable energy through a tokenized CO2 offset system. 
The benefits of employing blockchain tech to counter rising global temperatures go far beyond the crypto industry. There's a dire need for transparency in the decarbonization movement and blockchain technology is here to deliver. Blockchain technology can certify a product's origin, motivate sustainable actions through financial rewards, and discourage governments and corporations from backtracking on their environmental pledges. 
5. Democratize climate change-fighting tools 
Actions speak louder than words, but social interactions can also facilitate environmental awareness to inspire and support sustainable projects. Demanding that governments, organizations, and companies stay true to their word on climate initiatives can propel the establishment of helpful programs and guides. 
RED Platform does just that and more. From providing the information needed to reduce your carbon footprint to creating a transparent structure for sustainable development, the RED Platform is giving everyone access to climate-saving tools. Only together we can rebalance the environment and safeguard a better world for our posterity.
Start today by joining the RED Platform!