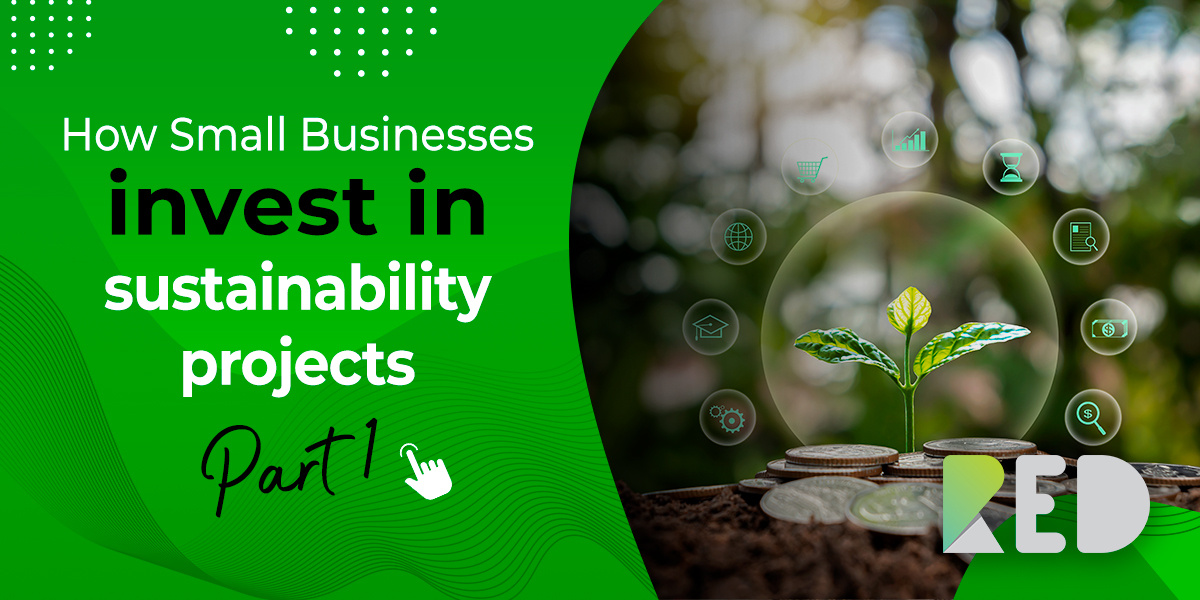 There are various reasons ‌small businesses invest in sustainability projects. From reduced costs to an improved reputation, small businesses of all kinds can benefit from adopting climate-friendly policies. Here are other advantages for small businesses that invest in sustainability projects: 
Risk mitigation 

Operational efficiency

Waste reduction

Improved competitive advantage

Carbon offset

Industry norms adherence 
ESG is more important now than ever. Investors, policymakers, and other stakeholders place a significant amount of emphasis on businesses that prioritize ESG particularly because of the risks posed by the climate crisis. And while large businesses have more room to dedicate ESG compliance teams, small businesses can still switch to using digital receipts, renewable energy, and waste management to reduce their carbon footprint. 
What do the United Nations' Sustainable Development Goals mean for small businesses?
There's no shortage of incentives for small businesses to invest in sustainability projects. Small businesses also might have no other option than to implement sustainable measures to compete in the market. The United Nations adopted the Sustainable Development Goals in 2015 as a blueprint to address issues like poverty and climate change. A large part of the UN's SDGs focuses on improving the climate crisis by increasing access to clean water and energy through industry, innovation, and infrastructure. 
These goals provide businesses with incredible opportunities because they require participation from all sectors of society. Small businesses can get ahead of the curve by strategically positioning themselves as champions of green energy. 
What are CSR campaigns and what do they mean for small businesses?
Sustainable investments hit a record $120 billion in 2021, more than double the $51 billion in 2020. It's becoming clear that businesses have to implement socially responsible policies to maintain their competitive advantage. Corporate Social Responsibility campaigns allow businesses to enact socially responsible measures. These campaigns help businesses gain customer trust and encourage meaningful social change. 
Examples of CSR campaigns implemented by small businesses
Even small businesses can afford to be socially responsible. To some extent, it's probably more important for small businesses to implement CSR campaigns since they have a greater impact on their local communities. Here are some examples of CSR campaigns that small businesses can implement: 
Donations to charitable organizations

Reducing carbon footprints

Fairtrade practices

Implementing policies that benefit the environment

Socially responsible investments 

Volunteering 

Develop local community partnerships 

Blockchain technology implementation 
There's no shortage of meaningful measures companies can carry out to help the environment and society overall. However, even CSR campaigns can be corrupted by human motivations. That is why the Restart Energy Democracy Platform emphasizes the importance of blockchain technology in achieving sustainable goals. And it's also why RED Platform allows businesses of all sizes to develop sustainable projects on the blockchain. 
Blockchain is a full-proof, transparent system that allows businesses to validate transactions and hold themselves accountable. By using the RED Platform, small businesses can reduce their carbon footprint through the first tokenized CO2 offset system in the world. They can also prove the success level of implemented CSR campaigns through certificates via the RED Platform. Validating CSR campaigns through the blockchain can help small businesses retain and grow their client base, save money, and adhere to industry norms.