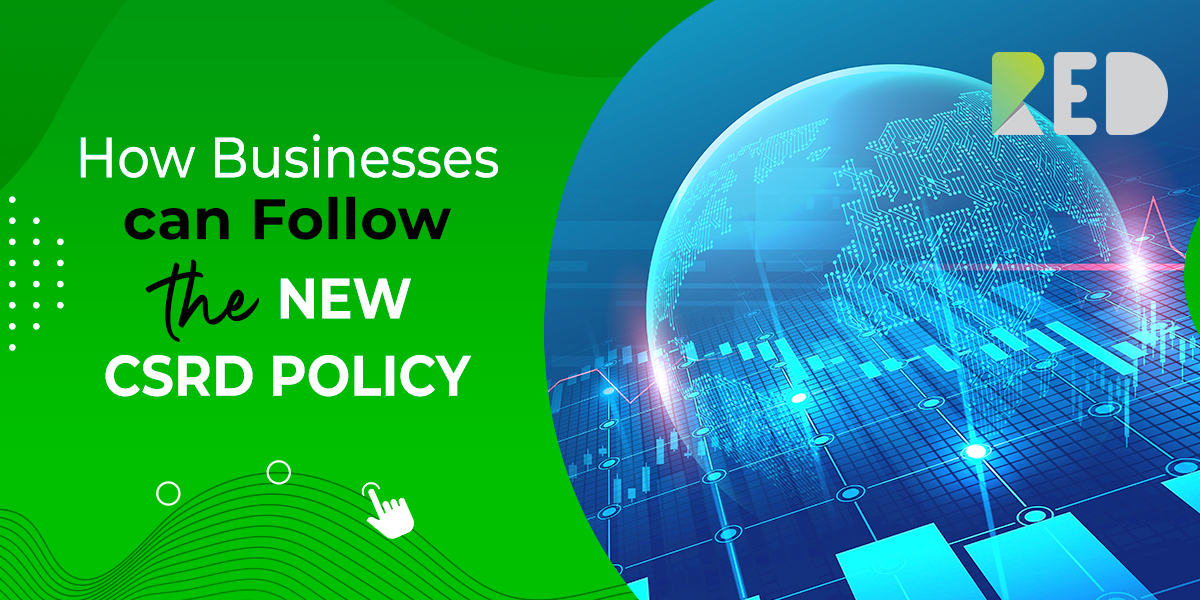 In today's era, businesses are shifting towards creating and enabling a sustainable economy. Here 'sustainable' refers to ensuring that any venture doesn't function at the cost of our environment. Organizations are strategizing and designing their workflows, business models, and revenues while keeping in mind the ESG factors. ESG stands for Environmental, Social, and Governance.
Besides the companies, even countries and government bodies are taking the initiative and drafting policies towards ensuring an eco-friendly industry. One such initiative is the CSRD (Corporate Sustainability Reporting Directive) by the EU (European Union).
Whether you've got a brief idea about this or have no clue, you've arrived at the right place. In this article, we'll be taking you through what CSRD is, its key aspects, and how your small business can prepare for the same.
The New Corporate Sustainability Reporting Directive (CSRD)
The EU already had a system of Corporate Sustainability Reporting. According to this, large MNCs and organizations had to submit non-financial aspects of the business in a report. These aspects included social matters, environmental matters, treatment of the workforce, human rights, and more. This was also known as NFRD (Non-Financial Reporting Directive).
However, this went through an upgrade in 2021, and the revamped version was known as CSRD. The CSRD was much more detailed and comprehensive in terms of the details that had to be submitted in the report.
It was far more insightful for the EU, and it would truly help understand where the company stands when it comes to its non-financial aspect and how it can improve. The new CSRD also modified the kind of organizations that had to indulge in this reporting and essentially included more parties under this policy.
While there were many new standards and mandates, a few critical ones are mentioned below.
The CSRD proposal applies double materiality
For the uninitiated double materiality means that any issues to the environmental or social aspects will have consequences on the financial aspect of a business. So, any company needs to conduct a double materiality analysis. This includes financial materiality and environmental & social materiality.
In these, one identifies how the risks to ESG-oriented goals can affect the organization's business and how the company's activities impact the external environment and society. At the end of this analysis, one gets a comprehensive list of the existing gaps and the opportunities where performance and business can be improved.
New EU sustainability reporting standards
As mentioned earlier, the submission of reports has numerous guidelines that need to be followed. These guidelines are known as sustainability reporting standards, which dictate what kind of information must be disclosed by what kind of organizations and the next steps. Here are a few important ones.
Types of Organizations Included in the CSRD
   

Listed companies

   

Banks

   

Insurance Companies

   

Other companies designated by national authorities as public-interest entities
All these companies must have more than 500 employees, and currently, there are about 11,700 companies that come under the EU.
Information to be Submitted
Under Directive 2014/95/EU, large companies have to publish information related to
   

Environmental matters

   

Social matters and treatment of employees

   

Respect for human rights

   

Anti-corruption and bribery

   

Diversity on company boards (in terms of age, gender, educational and professional background)
These standards have two major differences from the previous standard besides mandating more companies and requiring more info. First, all the information submitted will compulsorily be audited. Second, the information must be digitally tagged so that any equipment can easily process the data.
Third-party assurance mandatory
The audit mentioned in the earlier section will be carried out by third parties such as the Red Platform. Different platforms and vendors have their techniques for auditing and validating the information provided.
This means the company's info will always be subject to an outsider's verification and validation process. But, this can be leveraged to the organization's benefit as well, based on the partner and vendor it chooses.
How can your business prepare?
The RED Platform is the first decentralized blockchain system that enables companies to collect tokens for the amount of CO2 offset they record. These reports could indicate the amount of carbon emission produced by the organization and how they can offset it by leveraging the RED ecosystem. Alternatively, if the company positively impacts the environment, it can submit this information and earn monetary benefits for the same. This is one of the many ways businesses can prepare themselves.
Overall, this is essentially what the new EU CSRD is, and companies can follow some of the above guidelines to ensure they comply with it. Sustainable businesses are inevitable, and it is crucial for you to join the bandwagon early on and get a head-start on an emerging trend.