During the month of February, the team has been working on various projects:
REO-G upgrade and flow implementation
Huawei inverters integration
RED Carbon Standard Registry analysis for implementation
Features' bugs correction
REO-G and powerplants upgrades
The "My Powerplants" section on the RED Platform has been upgraded with an improved flow that will allow renewable energy producers and prosumers to benefit from the blockchain and platform advantages:
Obtain REO-G tokens automatically through Huawei / SMA inverters;
Use REO-G for offsetting a personal carbon footprint regarding energy consumption;
Sell REO-G to third parties interested in using the tokens for offsetting energy consumption-related carbon emissions;
Fiat payments integration for better management of generated income.
You can find a quick sneak peek of this feature below: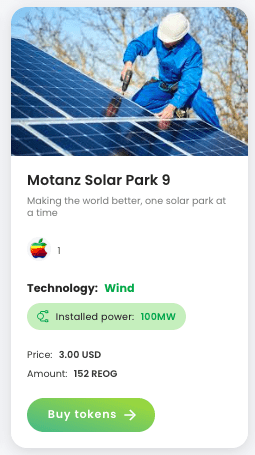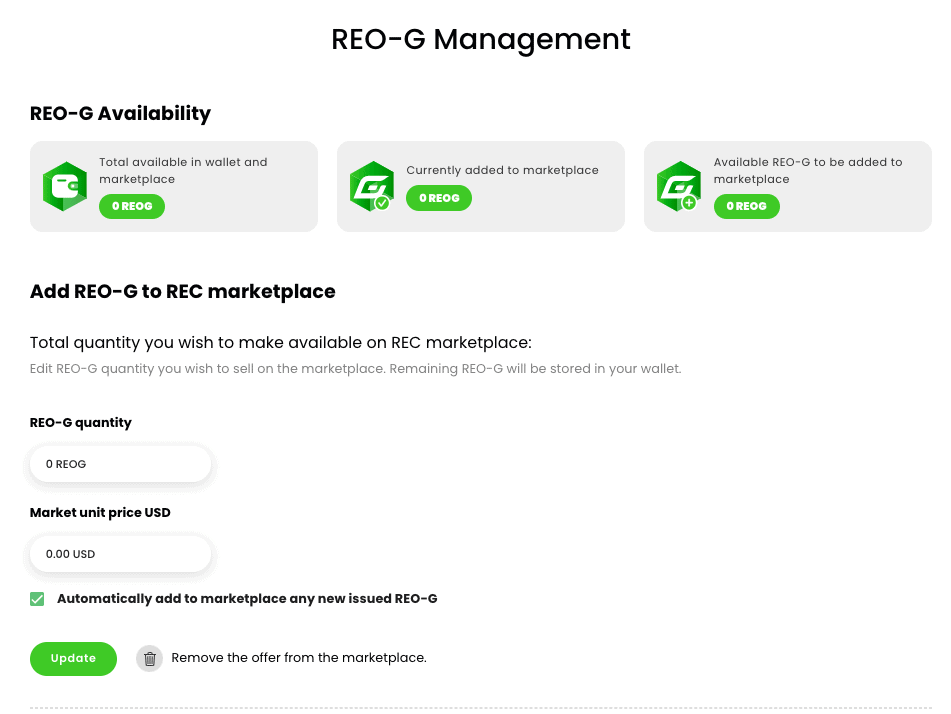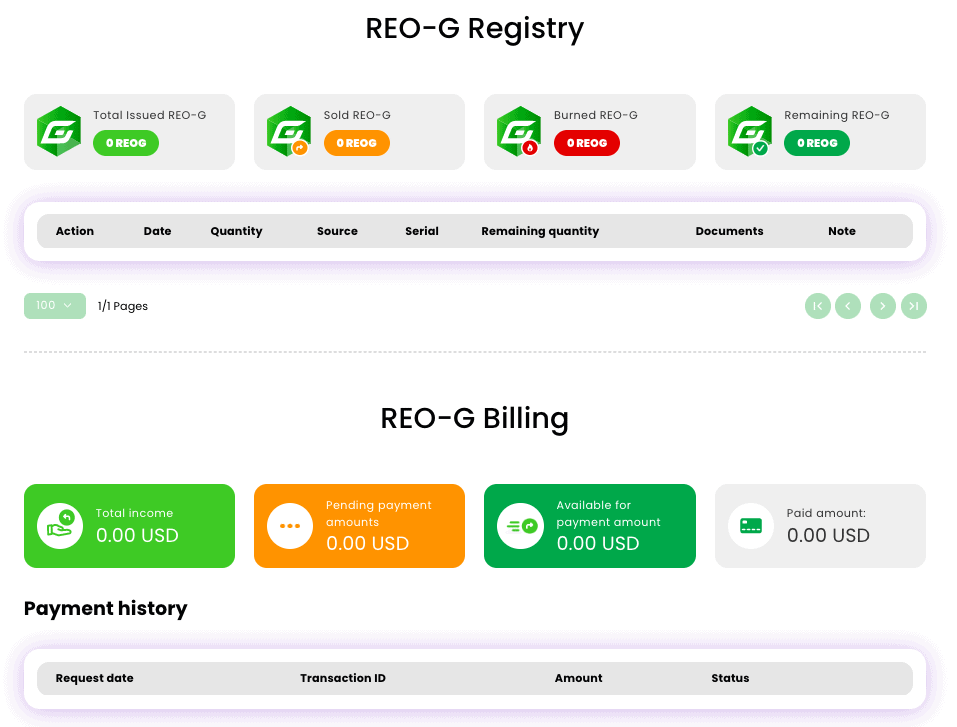 Changes will be available for our users in about two weeks.
To be implemented March-May
Beginning on March 15th, the team will start RED Carbon Standard Registry development, together with the change of the GTK carbon credit token (ERC-20) into an NFT token, as scheduled. Below, you will find a short description of each feature, as they were already presented.
Sustainable Projects Updates
As we are advancing with the integration of new sustainable projects on the platform and offering unique features for them, we are adding new features that will help in tokenized carbon credits issuance management and in preparation for the RED Carbon Standard Registry integration. These features will cover monthly tokenized carbon credits issuance and public presentation of the project's documentation.
RED Carbon Standard Registry
The sustainable project presentation/registry page design and information will be updated to align with our RED Carbon Standard Registry need, offer transparency, maximize the information offered to users and create a better user experience.
Carbon Credits Issuance as NFTs
Issuing Carbon Credits from RED Carbon Standard will increase traceability by allowing a more transparent process on the blockchain, easier token transactions and creating an overall unique experience for project developers and offset clients.
New RED Exchange
Payments with crypto on fiat purchases
Upcoming business developments
Sustainability Projects
As the RED Carbon Standard is growing its reach, new projects will be onboarded on the platform in the following months through our different franchises.
Growing our projects offer and intermediate the ultimate reach of the offset are two of RED Platform's targets for 2023.
Integration with third parties through APIs
One of the methods for reaching companies that need to offset their emissions is through our third-party integration option through APIs.
As we have already announced, an integration with Morpheus.network has been initiated and the project is advancing toward full integration in the following months.
Franchise Development
Franchise growth and empowerment is another of the streams we are concentrating on. We are closely working towards a high-scale development regarding franchises, sustainable projects and blockchain-based unique projects that will be launched this year.
We are expecting these projects to positively impact and interact with crypto-related companies, payments and usability.
Fees and business development for franchises
Franchise development is also closely related to establishing the franchise earnings inside the RED Platform. In the next couple of months, we will also announce the fee-earning structure for our franchised partners, and different possibilities for growing their businesses.
We want the information in the update to be helpful to you and we will keep you posted with all the news that will follow, so please let us know what you think here!
Don't forget to like and share our posts and follow us on our channels!
Twitter Linkedin Youtube Facebook Telegram Discord
You can see the previous updates here:
– Status report 2023, weeks 1-5
– Status report 2022, weeks 49-53
– Status report 2022, weeks 45-48
– Status report 2022, weeks 40-44
– Status report 2022, weeks 35-39
– Status report 2022, weeks 31-34
– Status report 2022, weeks 27-30
– Status report 2022, weeks 21-26
– Status report 2022, weeks 17-20
– Status report 2022, weeks 15-16
– Status report 2022, weeks 13-14
– Status report 2022, weeks 11-12
– Status report 2022, weeks 9-10
– Status report 2022, weeks 7-8
– Status report 2022, weeks 5-6
– Status report 2022, weeks 3-4
– Status report 2022, weeks 1-2