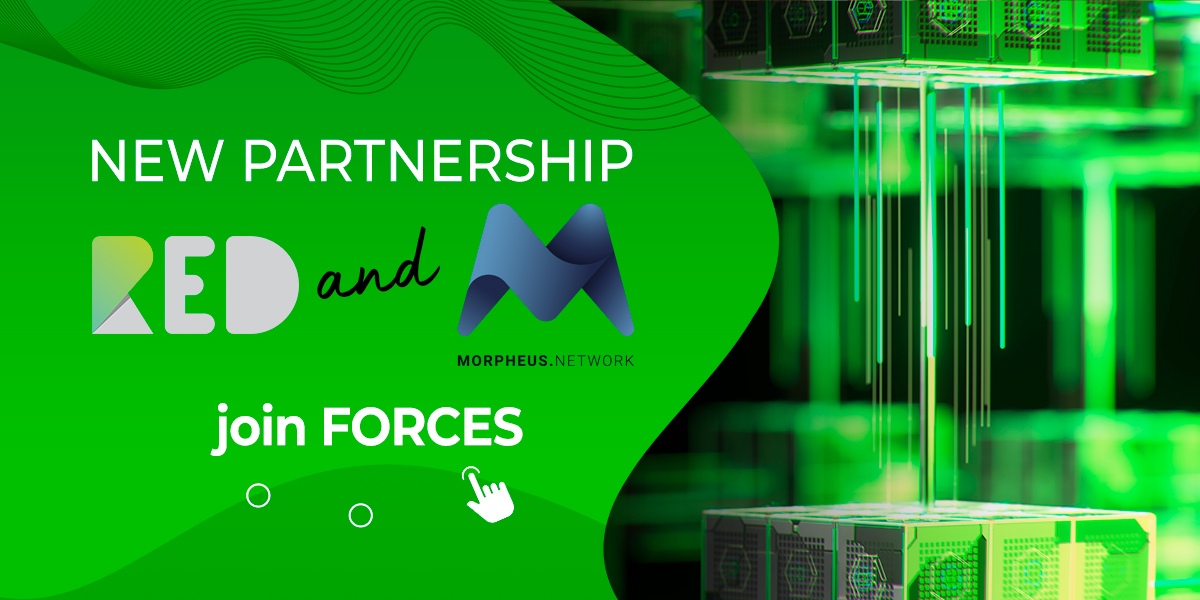 RED Platform and Morpheus.Network, the blockchain-powered supply chain platform, join forces to offer sustainable solutions to supply chain companies and transportation services. 
Under the partnership, Morpheus.Network has integrated RED's carbon calculating and offsetting system for companies and transportation. The integration will help Morpheus.Network's clients better track and manage their global carbon emissions through calculating, reducing, and offsetting. Companies will be able to choose from a list of available routes and view the carbon emission output for each route, helping to track and reduce their CO2 footprint and make their supply chains more sustainable.
RED Platform's blockchain system for sustainability and circular economy makes the decarbonization journey possible not only for direct users but also through integrations with third-party platforms and web pages, thus extending the positive impact and awareness through customized solutions.
Morpheus.Network is working relentlessly to make global supply chains more efficient and sustainable. They have helped their clients eliminate supply chain inefficiencies by leveraging breakthrough technologies. Their team of experts is constantly working to find inefficiencies in global supply chains, and carbon emission is one of the world's most significant issues.
According to statistics, the transport sector alone accounts for 16.2% of global greenhouse gas emissions.
The partnership with RED aims to work towards the shared goal of tackling rising carbon emissions. By integrating the RED carbon calculator system, Morpheus.Network's clients are empowered to choose from the available routes based on the CO2 emissions for a particular workflow over another based on location. 
Morpheus.Network clients can automatically offset their emissions and issue digital sustainability certificates through the RED Platform using carbon credits offered by projects certified with the RED Carbon Standard or other international standards.
According to an estimate, 40 billion tonnes of CO2 is released into the atmosphere every year. This contributes to a significant rise in global temperature resulting in what we call climate change. With the emission of CO2 at this rate, it is challenging to meet the Paris Agreement limit of 2 degrees Celsius for global warming. Therefore, to meet the Paris Agreement limit, we need companies globally to adopt a tracking and rewarding CO2 offset.
The integration will help Morpheus.Network's clients to calculate carbon footprints on a particular shipment route and issue handling certificates accordingly. By leveraging our features powered by new tech, our clients can select the most environment-friendly routes and contribute to reducing carbon emissions globally.
Blockchain technology has positively impacted many industries, upgraded workflows and granted traceability and transparency for final users. Transportation, supply chains and sustainability solutions based on blockchain are revolutionizing the industry and contributing to a greener, more sustainably-aware ecosystem.
"We are super excited to join hands with Morpheus.Network to work towards the common goal of achieving more sustainable global supply chains by cutting carbon emissions. The partnership with Morpheus.Network will help us create an impact in global supply chains by helping companies across the industries select environment-friendly routes for supply chain operations." – Armand Doru Domuta, CEO, RED Platform. 
Morpheus.Network 
At Morpheus.Network, we are intensely focused on helping companies and Government organizations remove barriers to digitizing, optimizing and automating their global supply chain operations. We help clients maximize revenue through digitization and process automation, protecting sensitive data, and untangling complex issues with the legacy supply chain system while delivering effective, equitable, and efficient global trade solutions.