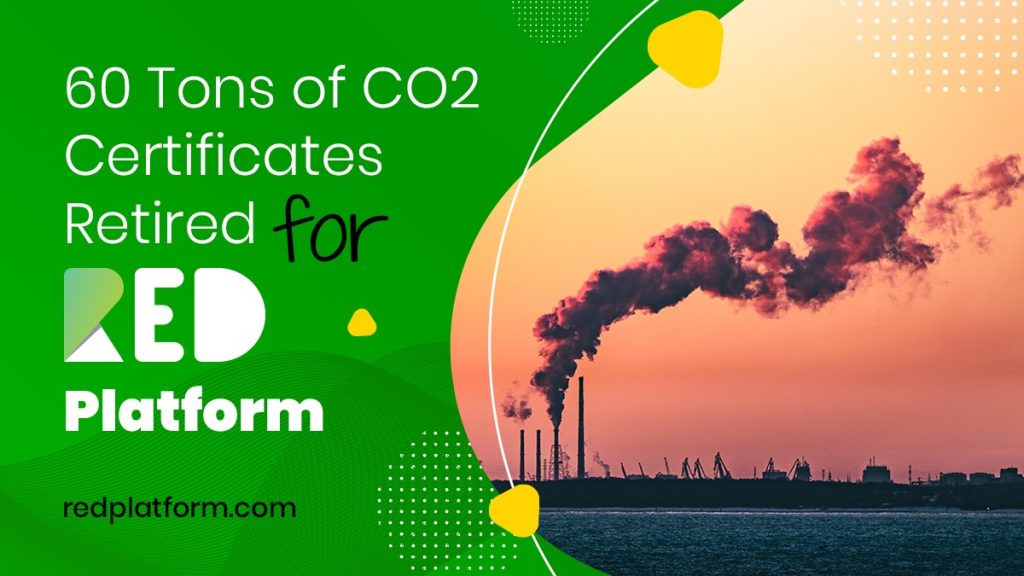 After the launch of the RED Platform on October 1st, the team has worked continuously to provide users with the necessary mechanisms to grow their reach to third-party companies and clients as they prepare to get engaged in the purchasing of new RED Country Franchise and develop their sustainability business using blockchain technology.
Within just 1 month from launch, the RED Platform has sold 60 tons of tokenized carbon certificates that come from two sustainable projects with international carbon standards!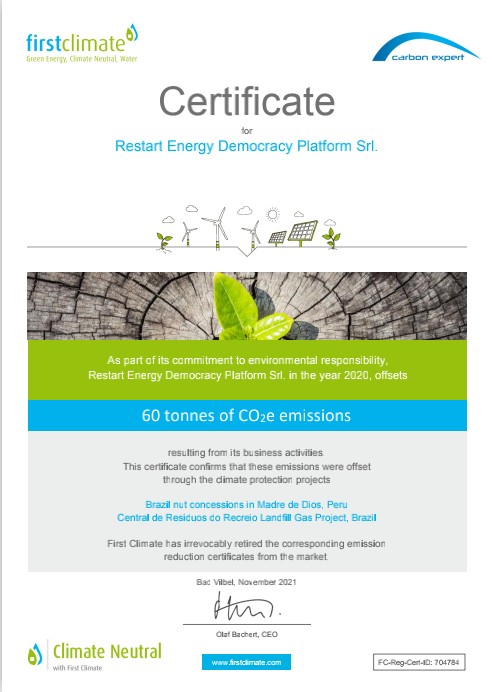 The carbon offset process begins with a company's or an individual's desire to become carbon neutral. In this process, the company or individual purchases carbon certificates from sustainable projects that avoid carbon dioxide emissions. By purchasing the certificates, the user performing carbon offset reduces its own carbon footprint by participating in projects that are already implementing strategies to reduce carbon.
On the RED platform, we take the carbon offsetting process to a completely new level by tokenizing the carbon certificates. In this way, users only need to purchase tokens from their preferred carbon avoidance projects and use them on the blockchain to obtain a sustainability certificate that shows the offset of their carbon footprint. The process offers transparency and traceability to the organization performing the carbon offsetting.
For example, if somebody calculates his carbon footprint to be 20 tones of CO2 yearly and desires to become carbon neutral, he needs to buy 20 GTK for neutralizing 20 000 kg of CO2, meaning 20 tones. After purchasing, in order to offset the carbon footprint, the user will need to generate a sustainability certificate in order to become carbon neutral. When the certificate is generated, the chosen quantity of GTK is burnt on the blockchain in order to avoid double counting. The tokenized carbon certificates can only be used once for offsetting a user's carbon footprint.
The origin of the carbon certificates on the RED Platform
Carbon certificates are generated on the RED platform as tokens based on 4 typologies:
Sustainable projects with an international carbon standard.
Already developed sustainable projects without an international carbon standard.
New sustainable projects will be calculated and put into implementation after passing through a validation process on the RED platform.
Sustainable actions developed by users on the RED platform based on implemented schemes (using green energy, planting trees, using e-mobility, etc.). Users who plant trees, use green energy, or perform other processes that avoid generating CO2 will receive GTK tokens after proving their actions.
As you have already read in our previous articles, RED started to implement this on the Platform. This process is divided into three main parts:
Claiming GTK or other sustainable tokens (for climate-friendly actions from RED Platform users or getting it from other external sources)
Trading them on the platform
Burning them for a Carbon Sustainability Certificate.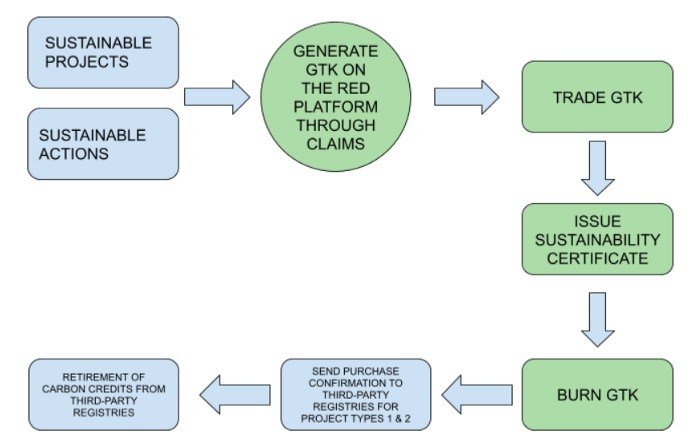 From launch, on the RED Platform, all users had available GTK tokens coming from two sustainable projects with an international carbon standard. Casiana, our Head of Sustainability, overviewed the process. Franchises were able to purchase these carbon certificates for their clients and any individual could offset their footprint by using these carbon offsets.
Sustainable projects made available to RED users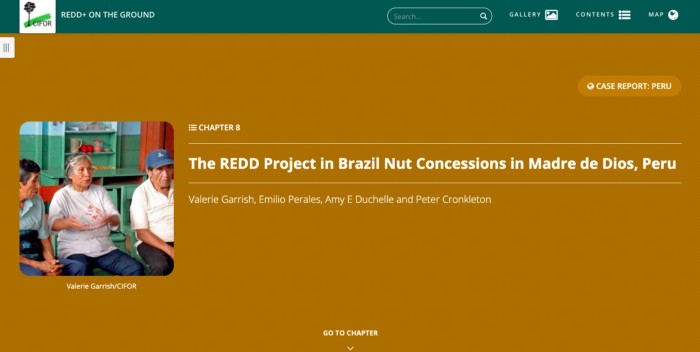 REDD+ is a United Nations Program on Reducing Emissions from Deforestation and Forest Degradation (REDD+) in developing countries. The Programme was launched in 2008 and builds on the technical expertise of the Food and Agriculture Organization of the United Nations (FAO), the United Nations Development Programme (UNDP), and the United Nations Environment Programme (UNEP). This Programme promotes the meaningful involvement of all stakeholders, including indigenous peoples and other forest-dependent communities.
Certified by Clean Development Mechanism, managed by United Nations Carbon Offset Platform for using the LFG (LandFillGas) in Brasil, the Central de Residuos do Recreio Landfill Gas Project (CRRLGP).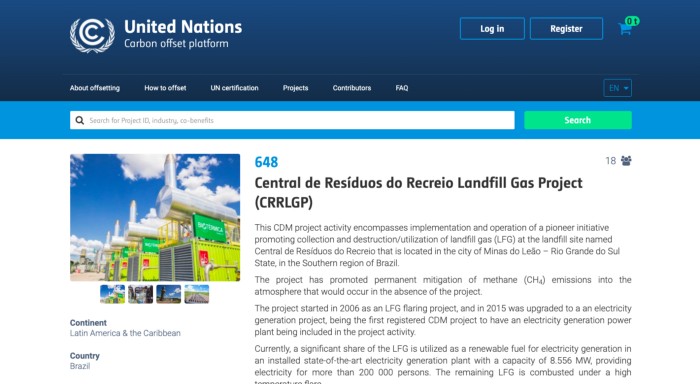 The project is located in the city of Minas do Leão in the south of Brazil. The southern region produces just over 10% of the country's urban municipal waste. This particular site stretches across 730,000m2 and receives around 90,000t of waste every month from over 100 municipalities. Before the project, landfill gas was passively flared but the site lacked an active collection system, meaning that large amounts of methane still escaped into the atmosphere.
The project involves the installation of an active collection system, which is connected to an 8.5MW generator. Each year, landfill gas will be utilized to produce 578MWh of clean electricity, which is fed to the Brazilian power grid. When the generator is not running, the gas will be flared.
60 tones of Carbon Certificates were purchased by users on the RED Platform: 30 tons from the REDD Project in Brazil Nut Concessions and 30 tons from the Central de Residuos do Recreio Landfill Gas Project.
As stated below, in the transaction receipt we received, the Carbon Certificates RED users purchased have been retired from circulation and are no longer available for purchase.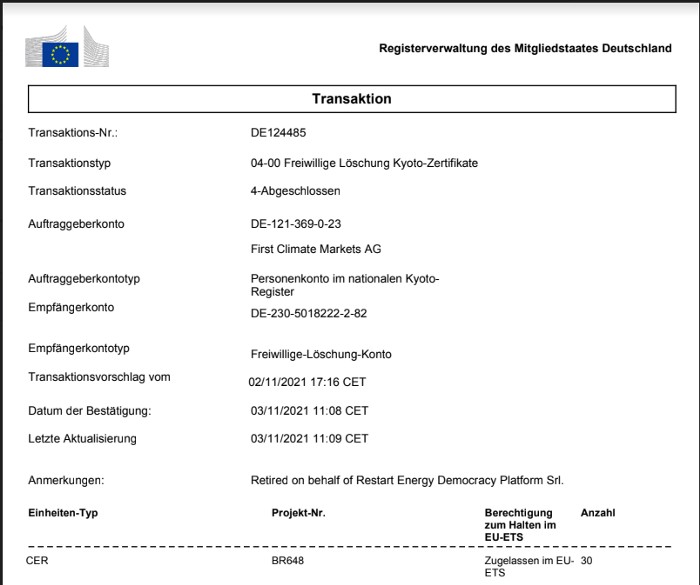 This process is transparent, backed by the registration on the blockchain of the movements done by users and project developers. The entire process and any operation are traceable at any moment and the sustainable tokens issued on RED Platform are backed by documents that prove their origin.
All these links will be public and available for everyone to verify and monitor all the transactions made on RED Platform, the first decentralized place where sustainable projects are tokenized and traded, followed by an automatic process of sustainability certificates issuance by burning the GTK tokens needed for offsetting the carbon footprint.
The premises for a good future are set, the Carbon Offsetting Tools are continuously improved and more features and services will be added in the near future.
All you have to do is to try the RED Platform for claiming your Sustainable tokens and sell it or calculate your Carbon Footprint, buy the necessary tokens for offsetting and ask for a certificate.
How to offset your carbon footprint step-by-step
Franchise owners can offset a company's carbon footprint directly from their franchisee tools.
If you are ready to discover more about carbon offsetting and the possibility of opening a business in the field, please contact us at support@redplatform.com.