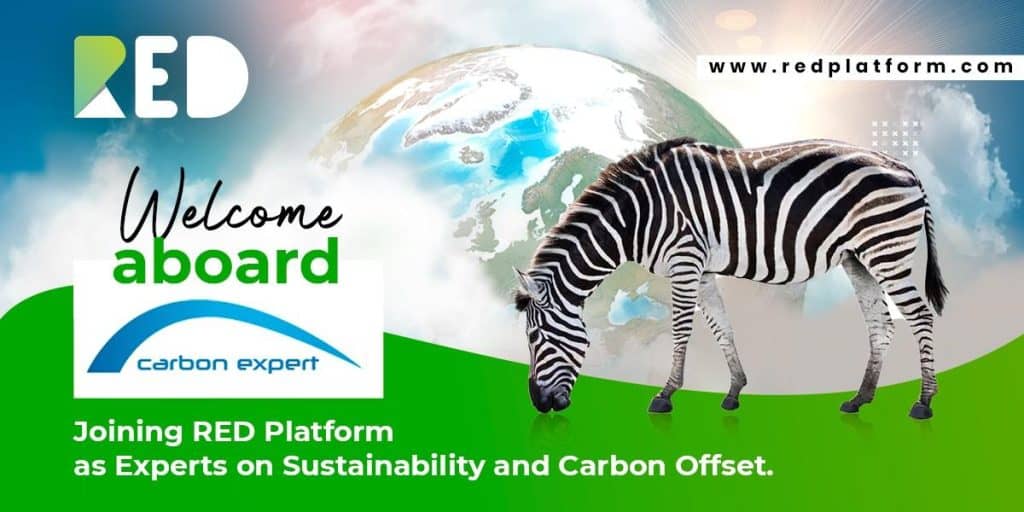 The RED Platform is now live and as we welcome new users daily, the team continues to work behind the scenes to bring you live tools, partnerships, and new experiences for everyone in order to grow our community and the business.
The successful launch of the platform took place on October 1st. If you have not watched the video, you can do so here:
The RED team has done amazingly well, building this project and attending to our customers and it has been extremely rewarding to be on this journey, together with our community.
We are especially excited about the next steps, about the new projects that we are beginning, and about the perspective that opens before us. Sustainability is not only the word that we use to refer to potential action that we can do in the future but to the NOW and to HERE. A path that is open to everyone who decides to follow it.
The RED platform is the place to go for every individual or business that desires to do something better for the environment and why not, to be rewarded for it.
In our quest to bring direct solutions to companies and organizations that impact their future and our Planet's well-being, we have made one of the biggest steps into bringing capable specialists to join the platform.
We want to introduce today our ally in this project, Carbon Expert, represented by Casiana Fometescu, whom you have already met at our launch event.
With ten years of experience in emissions of greenhouse gases, renewable energy markets, sustainable development, and energy efficiency projects, Carbon Expert is a group of experts from Romania, Poland, Bulgaria, Germany, Italy, France, Switzerland, and Spain who offer professional expertise in these fields.
Their participation in the last ten years at the United Nations Convention on the Climate Change (UNFCCC), being among the few independent consultants at these international events, recommend them in assisting partners and clients who want to trade greenhouse gases emissions under the EU Emission Trading Scheme, to calculate and offset the carbon footprint or to develop green projects in order to obtain voluntary carbon credits within the international carbon market as well as to foreign partners who wish to address the Eastern European market.
Casiana has already guided the RED Business development team towards the key strategic decisions for future developments.
Casiana is now Head of Sustainability and Carbon Offset at RED and will overview and validate new projects that come to the platform, as well as contribute to the development of features, projects, and strategies related to her field of expertise:
Analyze and validate the sustainable projects that join the RED Platform thus ensuring transparency and trust to all users and project developers;
Ensure the optimal calculation and implementation of new projects by providing templates and know-how to RED;
Assist the RED team in decision-making strategies.
With Carbon Expert, RED users have the access to buying carbon certificates from projects validated by internationally recognized organizations like Verra and Gold Standard.
At the moment we have two major projects on the RED Platform that any user can buy carbon certificates from under the form of GTK tokens:
REDD Project in Brazil nut concessions in Madre de Dios Peru
In the Peruvian Amazon, a company — community partnership is attempting to enhance the livelihood strategies of Brazil nut producers and provide incentives to maintain the forest on which they depend. The initiative, called the REDD Project in Brazil Nut Concessions in Madre de Dios, Peru, was initiated by the company Bosques Amazonicos SAC (BAM) in partnership with the Federation of Brazil nut producers of Madre de Dios (FEPROCAMD).
You can read the details of this project and their documentation here: https://www2.cifor.org/redd-case-book/case-reports/peru/redd-project-brazil-nut-concessions-madre-de-dios-peru/
https://registry.verra.org/app/projectDetail/VCS/868
Central de Residuos do Recreio Landfill Gas Project (CRRLGP)
This CDM project activity encompasses implementation and operation of a pioneer initiative promoting collection and destruction/utilization of landfill gas (LFG) at the landfill site named Central de Resíduos do Recreio that is located in the city of Minas do Leão — Rio Grande do Sul State, in the Southern region of Brazil.
You can find more details here:
https://offset.climateneutralnow.org/central-de-res-duos-do-recreio-landfill-gas-project-crrlgp-648-
Companies and organizations can now easily offset their carbon footprint, in just a few clicks on the blockchain.
We welcome Carbon Expert to RED and together we want to strengthen our positions and grow our reach for a greener planet.
Join us here: https://app.redplatform.com/.
Stay up-to-date with the latest information on our announcements channel: https://discord.gg/QzpGgeuyv2