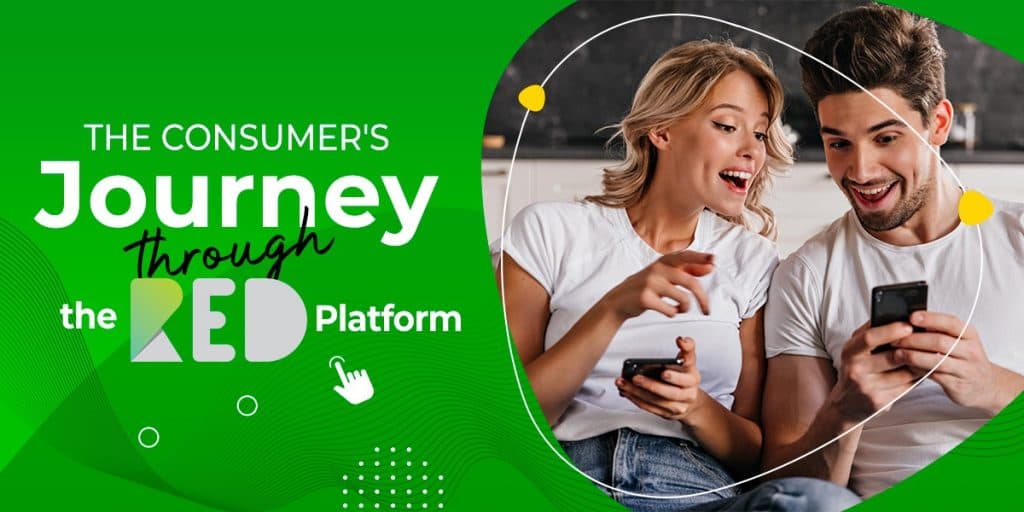 A new way of understanding energy consumption has opened with the energy markets' decentralization. This event has opened a new era for the universal consumer in many EU countries. They are not blocked with a supplier anymore, tariffs are established by supply and demand and new opportunities come up along the way.
One of these opportunities is the option to consume green energy, become aware of the importance of sustainable energy and other green choices that are available for everyone. Reducing food waste, making sustainable fashion choices, and using an electric car is for sure some of the most popular opportunities available if you want to contribute to CO2 reduction.
Consumers can profit from the green energy they use
What if we told you that consuming green energy can be rewarded within a complete CO2 offset system based on blockchain technology? It sounds fancy, but the system is easy to use, customer-oriented, and completely free. You will use energy every day, why not do it in a way that can benefit you in the long run?
Green choices become more available for people in their day-to-day life. If we have learned something until now is that we need to act responsibly, take action and not be indifferent to climate change. Even if we know that we have to change our habits, most of the time we fail to do it because we do not know how to start, and how to make the most of our actions.
At RED we have thought about how we can help our customers to be more focused on their decisions regarding green energy consumption. It has become clear to us that by rewarding consumers for their green choices, they will be more determined to choose a higher percentage of green energy in their electricity consumption. Access to new technologies, suppliers, and a system that will help to reduce CO2 emissions represents just the beginning of a great journey.
Let's dive into the importance of the consumer on the RED platform and their multiple opportunities.
Green Energy Supply for Consumers
Free GTK Tokens for consumers
Rewarding green energy consumption and production is the central piece of RED's sustainability system of CO2 offsetting. We believe that reaching climate neutrality needs to be profitable in order to succeed.
This is why all consumers on RED will receive free GTK tokens based on the percentage of renewable energy they consume throughout their energy contract with the supplier of their choice.
All producers are rewarded with Certificates of Origin in the form of NFT REO-G tokens, that can be traded on the RED Exchange. Companies and individuals will be able to offset their CO2 footprint by buying REO-G and GTK and requesting the issuance of a Green Certificate to prove it.
Sustainability on the RED Platform
CO2 offset
The RED platform has built on the blockchain the first tokenized CO2 offset system that not only gives its customers access to high-level technology, but also allows them to offset their carbon footprint in a transparent, traceable, and untampered environment.
As many of you know, all movements that are registered on the blockchain are transparent and can be checked at any time by anyone. This feature, added to the carbon offset system, is an important piece that proves the contribution of companies and individuals in a clear, transparent way. In many other CO2 offset projects completion is almost impossible to follow as it takes years to develop.
The CO2 offset system begins with the producers on the RED platform. They can register their green energy production for up to 12 months prior. Based on the green energy production, they can request Certificates of Origin through the minting of NFT REO-G tokens that contain the producers' information. Once the minting is completed, the tokens can be sold to companies and individuals who desire to reduce their carbon footprint.
REO-G follows the EU Origin Guarantees standards. Owning 1 REO-G means that 750 kilograms of CO2 were avoided to be released into the environment.
As we mentioned before, all consumers on the platform will receive free GTK tokens based on their supplier's power mix. In addition, all users on the platform will be able to request the minting of GTK tokens based on the green energy consumption on their electricity bill, electric car recharges, food waste avoidance, CO2 absorption, etc. After their claim is approved by a Validator on the platform, they will also have access to sell their tokens to companies and individuals interested in offsetting their CO2 emissions.
GTK is a new carbon offset system created by RED that anyone can access in a digital format. Their minting on the blockchain and validation by a third party confers them the necessary transparency to prove CO2 offset.
Owning 1 GTK means that 1 ton of greenhouse gas emissions was avoided to be released into the atmosphere.
Companies and individuals who are looking to offset their carbon footprint can buy REO-G and GTK tokens on the RED exchange and ask for the issuance of a Green Sustainability Certificate that states the quantity of CO2 that was offset based on the tokens they hold. When this certificate is issued, tokens are burnt from the wallet where they were held in order to avoid double counting.
The offset actions are registered on the blockchain and will be available for anyone to check their authenticity.
Freedom of Choice
If you are a consumer in a decentralized country you may have more options than you think. Choosing between two suppliers may be a difficult decision sometimes, but when you are offered extra advantages, decisions are usually easier to make. The right supplier may not always mean the cheapest option on the market, but the smartest one. Dig a little deeper into the company's plans to expand, investments in green energy developments, and growth business plans. These three answers will help you choose the right supplier. Because even if it is easy to change suppliers on the RED platform, you will want to be assured that you make the best choice.
What Does Freedom Mean to You?
It might be that you feel free just by having the possibility to change suppliers. Some people have higher expectations from their freedom choices and others just need to be assured that they are in good hands. It doesn't matter in which category you fit on this matter, RED has a solution for your concerns.
RED is for you if you believe green energy is the future
We are convinced that you already knew that changes need to be made to how we produce energy, how we consume it, and how we supply it. If you are determined to make changes in your energy consumption or desire to be a part of a system that will promote green energy production and consumption, you are in the right place.
RED platform consumers have access through franchises to different offers from suppliers that include a percentage of green energy or have 100% green energy supply included. The bigger the quantity of green energy that you consume, the higher the number of GTK tokens that you will receive. By selling the tokens to companies or individuals who desire to reduce their carbon footprint, you are promoting green energy consumption and participate in RED's CO2 offset system.
From the V2 of the platform, you will be able to buy your renewable energy directly from the producers of your choice and have it supplied to you through your trusted supplier on the RED platform.
RED is for you if you only need a good supplier
Good suppliers are the ones who adapt to the market changes and listen to the real needs of their customers. When choosing RED, a supplier does not only demonstrate its capacity to adapt, but it also shows its interest in high-tech products, advances, and opportunities. If you find an offer on the RED platform, you can be sure it is coming from top performers in the market.
On the RED platform, suppliers will have access to a number of tools and functionalities that will help them to better understand their clients' needs and consumption. This will allow them to adapt to the changes in the market and offer you the best solutions for your needs.
RED is for you if you need variety in payment options
You will be able to pay your bills online in fiat or tokens (MWAT, ETH, BTC, etc.) and choose the best option for your needs. The reduction and elimination of taxes through the RED exchange will also contribute to a higher level of adoption of cryptocurrencies among consumers.
RED is for you if you need a change
The energy market is not one known to move fast. The RED platform will bring producers, suppliers, consumers, and simple users together. The users have different opportunities based on their needs and they will be able to use the different options for growing and enjoying lower prices. The advance brought to the market through the platform will have an impact on all the parts of the energy chain.
By choosing RED, you will have access to the ecosystem that brings energy closer to consumers and gives them the power of choice.
RED is for you if you need transparency
The registration on the blockchain of different actions on the platform helps to have a clearer view of the process and offers transparency and thrust in the offset, produced energy, and supply systems.
RED is for you if you like rewards
Who doesn't like to be acknowledged for their actions? If you think that change is the answer to progress, you will enjoy your experience on the platform. By choosing suppliers with a higher green energy supply mix, you will receive automatically more GTK tokens each month.
RED is for you if you want options
Freedom translates into having options. Options to choose, to buy, and to operate according to your needs. You will find your energy and has supply options on the platform where you will have access to multiple offers and options.
Trading for RED Consumers
Trading on the RED platform is open to anyone. If you are a consumer, you will have access to the RED exchange, after you fill out your registration. You will be able to buy the cryptocurrencies available on the exchange, trade, and participate in staking actions according to your needs.
Opportunities and Transparency
You already are an energy and/or gas consumer. You will need these basic services for a long time. Why not make sure you get the best out of your monthly payments to the supply company?
Transparency is a new approach in the field of energy and gas supply. Consumers were not always aware of changes in the supply services before the decentralization took place. Adding to this positive change, at RED we desire to give our customers free access to the first CO2 offset system on the blockchain, to energy producers and to transparency, lower prices, and new opportunities.
Every part of the application is built to be user-friendly and intuitive. All users will feel comfortable using it on a daily basis and check on their consumption, bills, and payments. A new level of usability and access for everyone.
Are you ready for new opportunities? Join now.
Chat with us on our Discord channel: https://discord.gg/QzpGgeuyv2